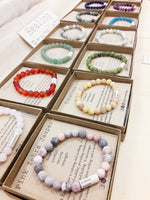 How to Choose the Right Gemstone
Gemstones contain the remarkable ability to absorb, amplify, transmit, and transform energy.  They are an effective and fun way to help direct and influence our energy towards greater health.  So how do you find the stones that are right for you?
Read more
Testimonials
Bracelets turned out great. Merilee was wonderful to work with and made the customization process fun and easy. Thank you!!

Carrie C.
This purchase was perfect from beginning to end. The seller promptly responded to my custom request, assisted me along the way, and sent my order promptly as well. The bracelets I ordered were exactly what was promised and I am delighted. My friends will be delighted as well when I give their bracelets to them as part of our summer reunion. Thank you for an excellent experience!

Candace M.
Thank you so much, Merilee! Your attention to detail and talent combine to make a truly unique, special, and meaningful gift. Shopping with you has been a joy, and I look forward to future purchases with you.

Tiffany L.
My sister loved her bracelet. She is allergic to metal, so I had to find something that she could wear as a wedding present.

Rose H.
This was just the perfect teacher gift for my son's teacher. It arrived quickly despite international shipping and a Canadian postal strike! Thank you so much - a true delight!

Valerie T.
Everything was perfect so I purchased again! The items shipped on time and the owner is very sweet!

Allison O.
Thanks to YOU

Meristic planted 600 trees in California
Thanks to YOU

Meristic planted 100 trees in Haiti
Thanks to YOU

Meristic planted 500 trees in the Amazon Rainforest
Meristic donates partial proceeds to ONETREEPLANTED.ORG
Thanks to YOU
Meristic planted 600 trees in California
Thanks to YOU
Meristic planted 100 trees in Haiti
Thanks to YOU
Meristic planted 500 trees in the Amazon Rainforest
Meristic donates partial proceeds to ONETREEPLANTED.ORG